GMC 2500HD/3500HD Premium Front Bumper with Sensors 2015-19
It all starts here with our premium front bumper! This leading bumper gives you increased ground clearance and an aggressive look, all while incorporating factory fog lights, tow hooks, and front park assist sensors.
*Product shown above was a Special Order that requested No factory tow hooks.
Product Category: Premium Front Bumper
Vehicle Make: GMC 2500HD 3500HD
Model Year(s): 2015-19
Part Number: GHD15-FB PA
Product Gallery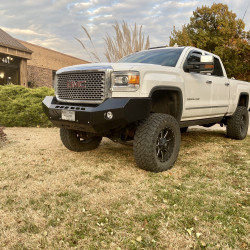 Features
Provides bumper protection
Bolts directly to the frame
Retains factory driving lights, tow hooks, and front sensors
Specs:
We only use American-made steel
BUMPER SHELL IS CONSTRUCTED WITH 1/8" TREAD PLATE OR 10-GAUGE SMOOTH STEEL THAT IS FORMED ONTO A 3/8" STEEL FRAME
FINISH: VARIOUS POWDER COAT COLORS AVAILABLE
APPLICATION: 2015-2019